Welcome to the Swing Time Big Band Website.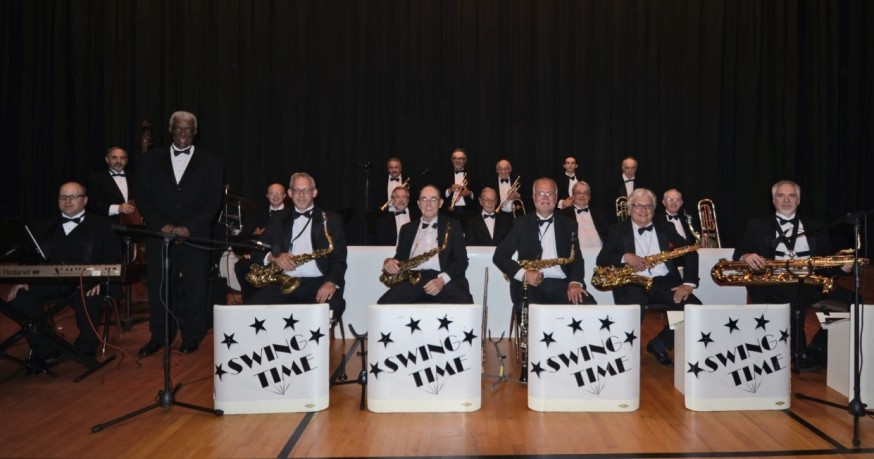 Swing Time is a Cleveland; Ohio based authentic big band featuring five reeds (alto, tenor, baritone saxes, flute and clarinet), four trombones, four trumpets, rhythm section, and male vocalist. We feature the sounds of the 30's to 50's with classic arrangements from bands such as Duke Ellington, Count Basie, Glenn Miller, Stan Kenton, Woody Herman and Buddy Rich. We also play the newer sounds of contemporary artists like Michael Buble, Harry Connick, Brian Setzer, and Big Bad Voodoo Daddy.
Swing Time will have your guests on the floor and dancing to best of Ballroom, Swing, and Latin including Cha-Cha, Tango, Rumba, and Salsa. We'll even throw in a polka or waltz or two. The Swing Time Big Band has played at many venues of the years including the Bop Stop, the RNC, Mayfield Village The "Grove", Waterloo Ballroom of Slovenian Workmen's Home, Vosh Club, St. John Vianny Church, Bainbridge Swing Dance, Saint Basil the Great, Get Hep Swing, Lakewood Masonic, Independence Home Days, Middleburg Heights Community Center, La Fiesta Party Center, Village of Glenwillow, Chesterland Gazebo, St. Monica, Parma Heights Baptist Church, and the Pepperpike Festival.
Anna Givens is our vocalist featuring the timeless songs of George Gershwin, Billie Strayhorn, Richard Rogers, Harold Arlen, Milton DeLugg, Arthur Hamilton and Kasas Joe McCoy.
Swing Time's Musical Director is lead alto Ken Paynter, with an assist from drummer/arranger Ernie Molner.
From Big Band Swing of the 40's to rockin' tunes from the 60's to the contemporary sounds of the 80's and 90's Swing Time will fill the bill.
After you have reviewed the material on this web site, please call Kenny Paynter at 216-475-4205 and he'll be happy to work with you on how Swing Time can best enhance your event.